Patient Testimonials
See and Hear It From Others When it comes to dentistry, only patients can truly tell you the quality and comfort of their experience. Take a look at what our patients have had to say about us in recent years.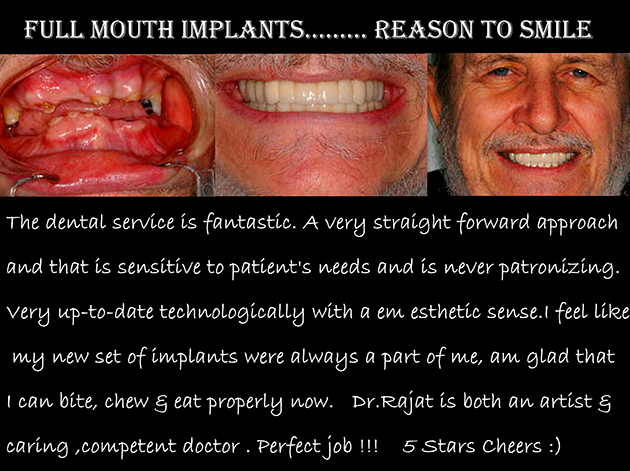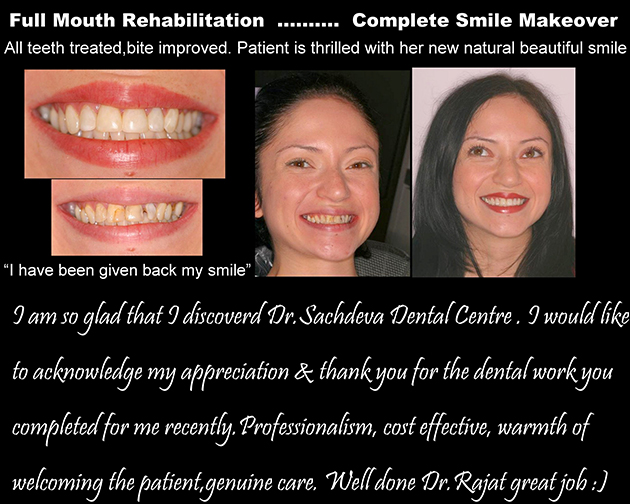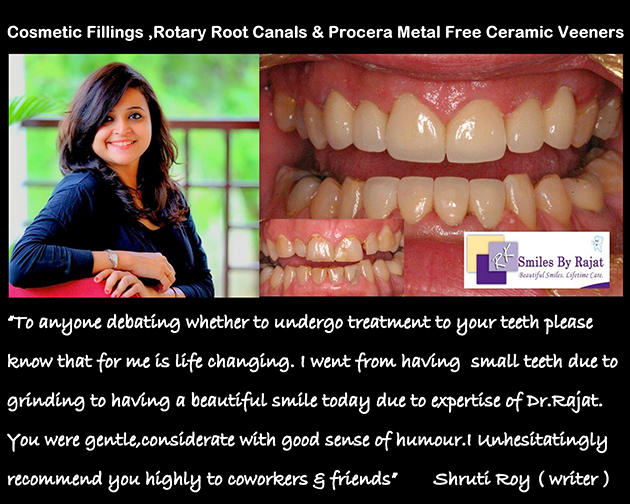 Mr. Nikhil Gupta
"Every experience I've had in the dentist's chair has been miserable, until now. Dr. sachdeva is the most compassionate dentist I've ever seen. He understands (and therefore can eliminate) fear and pain. The work he's done on my teeth has been top quality. Add to that his ability to calm the nervous wreck in the chair and you have a combination of skills that can't be beat. I'm no longer afraid, and that's pretty much a miracle. I can't recommend him enough."
Dr. Tarun K. Saint
"I had a severe case of "dental phobia" until I met and was treated by Dr.sachdeva. A root canal was not my idea of meeting a new dentist, however before, during and after the treatment I was very comfortable and pleased with the results. All in all, the procedure was uneventful. Future cleaning, fillings, etc. will no longer be a concern. Thank you, Dr. sachdeva and Staff!"
Thanks, Aditi
Dr. Sachdeva is the nicest and sweetest dentist I have ever met. His staff is also very kind. I love coming to get my teeth worked on and my teeth feel wonderful when I leave their office.
Aparna Singh
Since I was a child, I've been afraid of going to the dentist. I've had many painful dental experiences and because of these experiences, I've avoided going to the dentist. I decided that I wanted and needed to be more proactive with regard to my dental care. I did a lot of research and found Sachdeva Dental Care. From the moment I walked into the office, I was impressed. Dr. Sachdevawas very understanding of my previous dental experiences and made me feel at ease. He is gentle, kind, patient and understanding. If you are nervous or scared about going to the dentist, I would highly recommend Dr. Sachdeva and all of the wonderful people at Sachdeva Dental Care. Dr. Sachdeva is an outstanding dentist and you will be very pleased with the care that you receive.
Shreya Jain
Terrified cannot begin to explain how I felt when I visited the dentist. For years, I continued to see the same dentist afraid of changing for fear of the unknown. But I finally decided enough was enough, pain and panic that is, and decided to find another dentist. I found my way to sachdevaDental Care.. This past year, I have had extensive dental work done, and I have Dr. sachdeva, as he likes to be called, to thank for it. He took excellent care of me. He was patient, kind, and caring. He made sure that I was not in any pain. He meticulously and artfully gave me a brand new smile. Many people claim sport figures as heroes, but in my book, Dr. sachdeva is my Hero! Thank you Dr. sachdeva for my beautiful smile!..
Tanmay Bajaj
As I aged my teeth became crowded and began to overlap. Dr. Sachdeva recommended Invisalign to straighten my teeth and now they look perfect. He also replaced some old fillings and repaired a cracked tooth, all of which was a painless process under Dr. sachdeva skillful hands. I recommend Dr. sachdeva to anyone who is in need of dental care..
Lalita Thukral
"I wanted a white smile for a long time and finally decided to reward myself. My experience with Dr. sachdeva and his staff could not have been better! They are all highly professional and nice to work with. Dr. sachdeva not only corrected some dental work inside that was long overdue, but gave me a beautiful new, straighter brighter, white smile. He is very concerned that everything be "just right" so that you look your best when you leave and are happy with his work. He cares a great deal and that concern is reflected in his entire practice. Thank you so much Dr.sachdeva!"
Indrani Dass
" Dr. Rajat is an excellent dentist. He is young, energetic, friendly, always clearly explains what he is doing, gives patients clear options (if there are any) and shows kindness to all. I wish him well..
Thanks Dr. Sachdeva..Parul Gupta
" Dr. Sachdeva is a young dentist that makes me smile. He is extremely helpful and really makes a conscious effort to make his patients feel comfortable and at ease. Many times he has gone the extra mile for our family in providing excellent dental health care. His knowledge of many aspects of dentistry helps eliminate the need for some specialist appointments as he is able to fix things himself. I appreciate that he is willing, when necessary, to provide extra services free of charge. This shows his generous and caring nature in putting patients and their needs first, ahead of profit.
Monica Dubey
Dr. Sachdeva was referred to me by a friend who recently had some esthetic work done. I've hated a space between my front teeth all my life so I decided to make an appointment to see what Dr.Sachdeva would suggest. He gave me several options & I decided to do veneers on my 6 upper front teeth. My husband & family are excited about my new smile and my friends think I look 10 years younger.
A TRUE ARTIST!!.. Animesh Jain
Both my wife and I have recently had crown and bridge total moutn restoration. Our experience was a joy. From the first shot of Articaine to the last polishing of the enamel, there was never a pain or a moment of discomfort. In our opinion, what Picasso is to art, Dr. sachdeva is to dentistry,
Sunil Mehra, Delhi
"I just wanted to thank you and your entire staff for the excellent treatment and pampering I received at your office. Being in the dental profession, I know how important teeth are. I never realized the impact a perfect smile would have on my life.Growing up, I never liked my smile. My front teeth were discolored and had spaces between them. I was so unhappy that I would use my hand to cover my teeth when I would smile.Ever since I had veneers put on, my life has improved dramatically. I have so much more self-confidence that I can't stop smiling. It's amazing how two short visits to your office changed my life
Rashmi Kalra
Got RCTs,fillings, & crowns done at sachdeva dental care. expert working, care, profeestionalism & great cost..
All the best! . Ramprakash Nair
Genuine and sincere efforts to provide the best service and treatment, ensuring a pleasant ambiance and service with a smile, keeping up to commendable standards of hygiene and putting nervous patients at ease are the hallmarks of this clinic. I have closely followed their progress from the inception and feel they fully deserve all encouragement coming their way.
Greatly appreciate your service.Thank you.Tiah
Thank you, Dr. Sachdeva for such great painless experiences we had having our dental works by you. I don't like going to any dentist due to the needle & grinding noises. Your office has good customer relationship and friendly staff. It was a pleasure having gentle dentist like you, if I have a choice I would like you as my regular dentist. We flew all the way from Dallas just to have an appointment to see you. Good & job well done, Dr. Sachdeva & staff.
Thanks so much! Suzanne Phebus,UK
Your whole office is fantastic!! I have never been a fan of going to the dentist (as you know) and I truly enjoy the whole atmosphere and all the staff. You are all great and make me feel very comfortable.
Lille Meyir, U.S.A.
I certainly have Dr. Sachdeva to thank for putting the confidence and sparkle back in my smile. He is a true artist who takes a lot of pride in his work to the point of perfection. I am incredibly pleased with my new smile as well as the amazing care I received through the entire process He took the time to listen to my concerns and answer all of my questions. I trust him completely and feel very lucky to have found such a great dentist. He and his staff are a team of talented, caring professionals that make every effort to ensure client satisfaction and a pain free experience with each visit.
See More Images
Read More