Dental Implants
Dr. Sachdeva's Dental Aesthetic & Implant Centre is one of the leading implant treatment providers in Delhi.
Our team of Certified Implantologists are all highly qualified from Germany and USA with vast experience. We have many patients who travel from other countries to get their implants done by us and also get referrals from other dentists for complicated dental implant cases.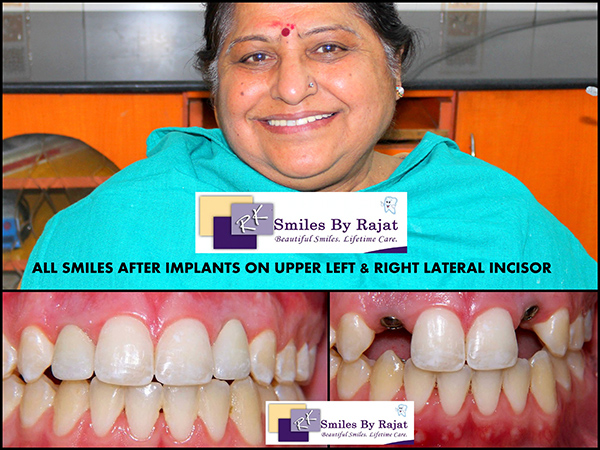 With Implants, no need to grind healty teeth
What is an Implant ?
Implant is a titanium screw that is fixed within jaw bone, over which artificial teeth or denture is fixed. It is a best option for those who have lost one, most or all of their teeth, and need fixed natural looking teeth.
Our Specialities in Implantology :
Routine:
Single tooth implants
Multiple teeth bridges on implants
Implant supported dentures (Fixed Dentures)
Implant placement after tooth removal
Immediate function implants
Teeth in an hour procedures
Advanced :
Sinus Lifting (Direct & Indirect)
Bone Grafting
New Bone Regeneration techniques
Block bone grafting from hip and other areas and lot more things, still under research.
Why Choose us for your Dental Implants?
We use the number one Dental Implants system in the world.
Cutting edge technology: we have the latest Dental Implant software that allows the placement of implants precisely without guesswork.
Implants are placed by Highly qualified Certified Implantologists
Our success rate for Implants is 97%, higher than the average.
We guarantee the success of the implants and in case of rare failure we would replace the implant with no extra charges.
We use the best dental laboratory in India. Complex full month cases are done in an implant specialized laboratory.
We offer 5 years warranty for the implant crowns *.
DENTAL IMPLANTS FAQs
What is a dental implant?
Dental Implant is a modality of treatment wherein Roots of missing teeth are replaced by Implants fixed in the bone. These Implants can either support Crowns, Bridges or Removable Dentures in the mouth. Oral Implantology has become one of the fastest growing disciplines of dentistry. Most modern implants are made of titanium. Titanium and titanium alloy are well accepted by the jaw bone. The external surface of the implant may be treated by different methods to increase the surface area available for bone cells to grow into.
Dental implants are available in different sizes and shapes like screws, blades and cylinders. The implant dentist selects the most appropriate implant after studying the case.
Why to place an implant?
Missing teeth can be replaced by dentures or bridges. Conventionally fixed replacement of missing teeth was done by Bridges after abrading natural adjacent teeth for support. However, if teeth on either side of the missing tooth space were not present it would not be possible to make a tooth supported bridge & an Implant supported bridge would be the other alternative. Implants need neither gum nor teeth to support them. Implants are placed directly in bone and do not damage surrounding teeth. They function like individual natural teeth. Loose removable dentures can be made firm in the mouth by clipping them over 2 or 4 Implants.
At what age can an implant be placed?
Boys younger than 18 years and girls younger than 16 are usually not treated with implants, though there may be exceptions depending on the individual considerations. Healthy individuals, however old they may be can avail of implant treatment, after consulting with their respective physicians.
What are the advantages of an implant?
1) Improved self esteem
Removable Dentures can loosen and dislodge while speaking. With implants, however the person can confidently talk, eat, chew and speak naturally.
2) Improved comfort
Conventional Removable Dentures is seated on the gum and hence is mobile. Such Dentures can be clipped on Implants which remain firm as they take their support from the bone and the thus the Denture would be stable & more comfortable.
3) Improved health
Implants greatly enhances chewing efficiency and hence allows the patient to eat all types of nutritious food easily.
4) Improved appearance
When teeth are lost the facial appearance begins to change. The muscle tone is lost and the person looks older. Dental implants greatly reduce the bone loss and this in turn has a beneficial effect on the facial musculature.
How does an implant prevent bone loss?
Biting forces are transmitted to the jaw bone by the roots of teeth. This stimulates the bone and keeps it healthy. As teeth are lost, the bone in that area does not receive adequate stimulation and becomes weaker and gets gradually reduced. Placement of implants allows adequate stimulation of the surrounding bone and hence leads to a healthier bone environment.
How long do implant procedures take?
The time to place implants can range from a few minutes to an hour or more, depending on the type of implant procedure necessary. The teeth can be fixed over the implants either immediately or after a few months as the case demands and allows.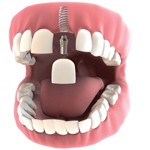 Why are implants costly?
Implants are cost-effective. Most implants are imported and their advantages far outweigh the initial investment in the long term, as compared to loose removable dentures. Long term health with natural esthetics and function are provided with implants.
Are implants successful?
Treatment with dental implants is highly successful and very predictable. However, as with all dental procedures, adequate hygiene and maintenance has to be observed to ensure long term success.
Who is a suitable candidate for dental implants?
In general anyone missing at least one tooth and who is in good general and oral health will probably be able to undergo dental implant treatment. The candidate's jaw must have enough bone to support the implant (if not, bone grafting may be required) and there must be enough space to accommodate the prosthesis over the implant. If you already wear dentures but you're uncomfortable with them, you should consider implants. You are never too old to get dental implants.
The dental procedure :
First, a qualified dentist will examine your mouth and teeth and take a thorough medical and dental history. X-rays and possibly a CT scan, will provide your dentist with a good idea of your bone density and the shape of your jaw.
Dental implant treatment is usually completed in two phases :
1) Dental implant placement - a recipient site of the same size and shape as the implant is created in the jawbone. The implants are placed into the jawbone for 3 to 6 months while osseointegration (bonding to bone) takes place.
2) Creating and attaching the new tooth or teeth to the anchored dental implant(s) in the jaw .
Dental implants require the same care as your own teeth – they should be brushed and flossed in order to keep them clean and plaque - free.
Single tooth replacement
A dental implant is the most effective way to replace a single missing tooth. The implant will replace it while preserving the bone and the neighboring teeth.
Replacing a number of teeth
Multiple dental implants can support a bridge in a comfortable way while keeping your jaw healthy and maintaining your current facial appearance.
Edentulous (without teeth)
If you need to restore a full arch, dental implants are the best way to go. The restoration will be attached to the implants without affecting your ability to eat, smile and laugh comfortably.
The success rate of dental implants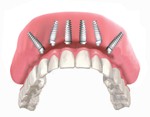 Dental implants can fail, but fortunately very infrequently. Failure rates vary depending on the site in the mouth, whether they are placed into natural or grafted bone and whether the patient smokes.
The overall success rate in natural bone is 95%, and in grafted bone between 85% and 90%. The operation, which is considered very safe, is also reversible. Under proper conditions implants can last a lifetime
Post implant instructions:

1] Anesthesia: The feeling of numbness will begin to wear off in 30 minutes to 4 hours. Until that time, avoid all hot foods or liquids, and do not eat anything.
2] Cotton Pack: A folded cotton pack has been placed over the surgical site. There should be firm pressure on the surgical site to assist in halting the bleeding. Maintain firm biting pressure on the cotton pack for one hour.
3] Bleeding: It is normal for the extraction site to bleed slightly or ooze blood for 12 to 24 hours following surgery. Saliva tinged with blood is normal for 1-2 days.
4] Ice Pack: For the first 2-8 hours after surgery, ice packs should be applied intermittently to the outside of the face over the area of surgery. The ice pack should be held in place for 15 minutes or so, and then removed for 15 minutes. This will help reduce discomfort and swelling.
5] Diet: A cold and soft diet should be adhered to for the first 12-24 hours. It is important to drink plenty of liquids for the first day or two following surgery. Avoid the use of a straw as it may dislodge the blood clot that is forming in the extraction site.
6] Oral Hygiene: Clean the rest of your mouth as usual, however avoid bumping or brushing the surgical site. DO NOT GARGLE for the first 24 hours following surgery
7] Medication: Some pain and swelling after the surgery is normal. If prescription medications were prescribed please use them and follow the instructions carefully. DO NOT TAKE ASPIRIN PRODUCTS due to the possible increase in bleeding potential.
8] Precautions: Avoid touching and feeling the surgical site with your fingers and tongue. DO NOT SMOKE for the first 24 hours following surgery. Avoid spitting for 24 hours. Please swallow your spittle.
9] Check Up: A check up the next day after surgery is recommended. Any sutures placed are non resorbable and need to be cut one week after the surgery.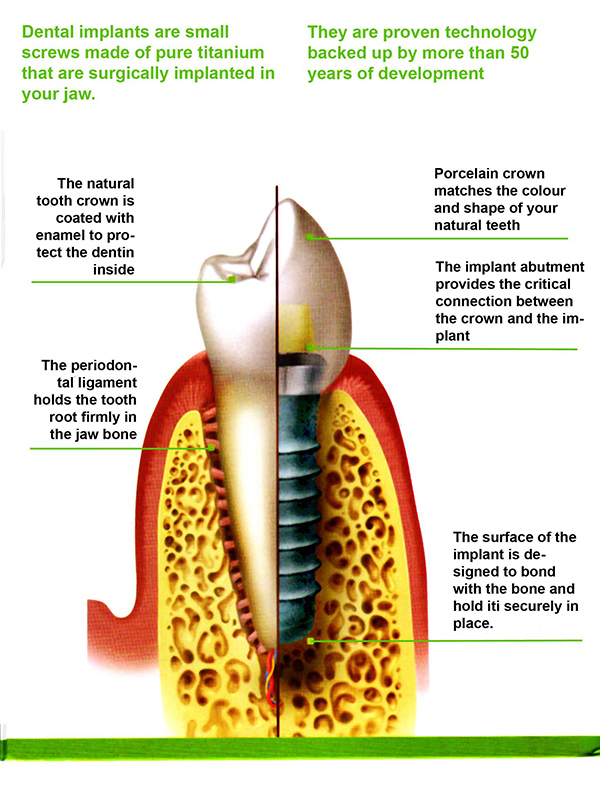 See More Images
Read More