Daya Foundation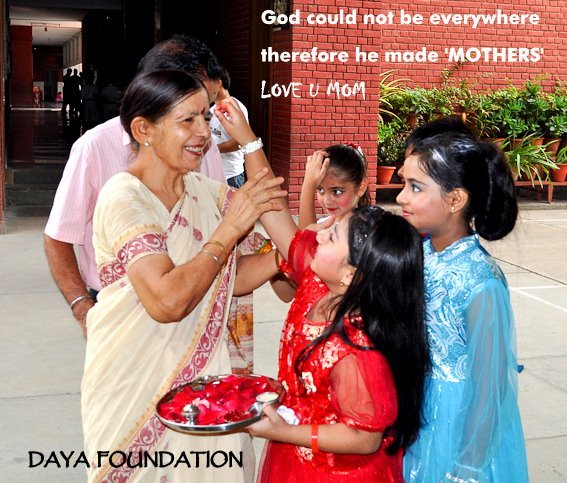 D.A.Y.A (Dental Awareness Through Youth Activities) FOUNDATION dedicated to my mother  "DAYA". She is my greatest teacher, a teacher of compassion, love and  fearlessness. If love is sweet as a flower, then my mother is that sweet flower of love, My respect for you is no different than your love for me, You are my crowning support & the best thing that I own says Dr.Rajat Sachdeva.
DAYA FOUNDATION - a unit of Dr.Sachdeva's Dental Aesthetic & Implant Centre, established to improve dental education, healthcare in delhi.
We are a humanitarian, non-profit NGO (Non-Governmental Organization) registered in delhi, engaged in social service initiatives. Our challenge is to make a meaningful difference in the lives of the underprivileged.
We are committed in our attempts to provide opportunities and resources to alleviate their needs and empower our society through dental healthcare projects, community welfare programs & encouraging positive human values...

Our work includes contributing towards, elder care programs, and dental health education awareness campaigns, dental Education camps for schools in Delhi & NCR - as "Smiles for all" Initiative !!!
"To maintain the Teeth and Gums of as many people as possible in the community in a healthy condition."
What is done in the Camps?
Every individual with or without dental problems is given dental check up for teeth and gums.
The oral hygiene status is assessed as" poor - fair – good" and individuals are advised accordingly.
A unique approach of guiding and advising on food intake and prevention methods are emphasized. The foundation emphasizes the role of food in both causation and prevention of dental disease.
Distributing Literature both in English and Hindi on Common Dental diseases, their causes, symptoms, prevention, complications and treatment. Nutritive values of various foods are also given to individuals.
Tooth brushes, mouthwashes, and other required medicines are also distributed.
Special lectures with Audio-Visual presentations are given to the general public. This is being done with an objective that we need to bring in and develop more people to create the awareness in the community.
 Daya foundation  with their "Smiles for all" initiative aims to create awareness amongst students about the importance of oral hygiene and oral care early in life to help them maintain healthy teeth and beautiful smiles for the rest of their lives. It has been found that children suffer from various dental problems like uneven teeth, crowded jaws and cavities, which if not treated may lead to serious complications later in life.. The foundation organises free dental camps across leading schools, colleges, orphanages in Delhi every month.
Speaking on the initiative smiles for all, Dr. Rajat Sachdeva, Director, DAYA FOUNDATION said, "Dental health is critical to overall well being of an individual, however owing to limited or no awareness it is often neglected. Through these camps we aim to create awareness about oral health and hygiene amongst children and teenagers early in life."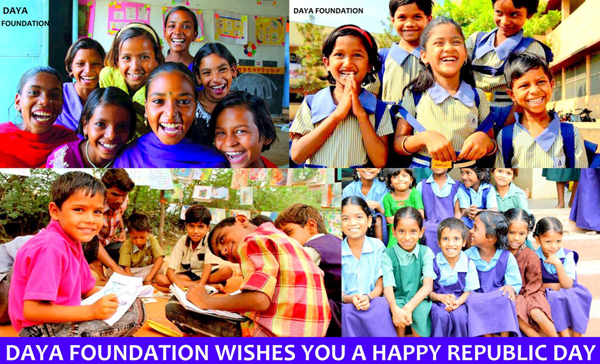 DENTAL CAMPS FOR DISABLED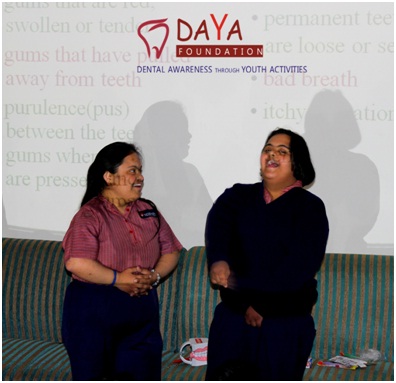 Oral hygiene in patients with special needs is essential as they tend to exhibit compromised oral health due to medications and difficulty in maintaining oral care. DAYA Foundation routinely conducts free dental camps to create awareness about oral hygiene. We make sure that the patients are comfortable with us and then treat them.
Special needs individuals include physically as well as mentally challenged individuals. Our dental team is attentive to the patient's body language and we make sure that the patients or the caretaker understands our instructions.
Dental care for patients with special needs requires a different treatment approach than the conventional methods which we are expert at. To detect dental problems complete screening is done as rightly said Prevention is better than cure. And in order to encourage children free dental samples are also distributed.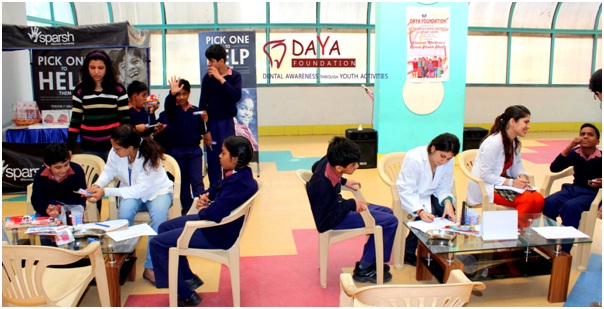 Children as well as caretakers are given proper instructions regarding the importance of oral health, optimal nutrition and methods to prevent the occurrence and ways to improve oral hygiene in special needs patients. They are also educated about oral habits.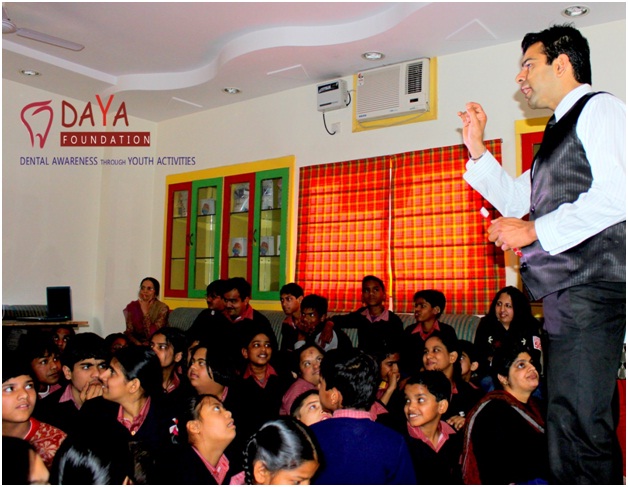 At Dr. Sachdeva's Dental Institute we have all the latest advancements to treat special needs patients without pain and fear. We have portable X-rays which aids in diagnosing dental problems without causing any discomfort to patients. Patients are comfortable with us.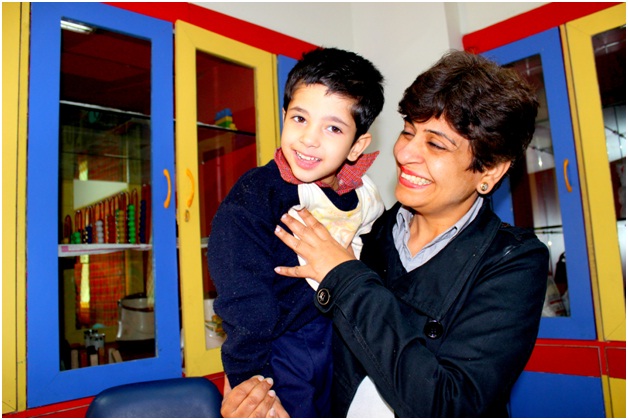 Diagnosing and treating dental conditions will prevent its progression and it will help them lead a good quality life without any discomfort. DAYA Foundation hopes to spread smile and improve oral health across globe.
DENTAL CAMPS AT SCHOOL
Oral hygiene in children is very important as it is the building foundation for a healthy mouth. Tooth decay is the most prevalent problem affecting school children which could hamper the quality of their life and performance at school.
The most important goal is to educate children about the common dental problems and methods to maintain health of the teeth as well as the gingiva. It is necessary to make children aware about the oral condition and avail for necessary required treatment.
DAYA Foundation holds camp regularly at Schools to promote oral hygiene in children from the beginning only. The children are informed about correct brushing technique and eating pattern in order to prevent and control dental caries.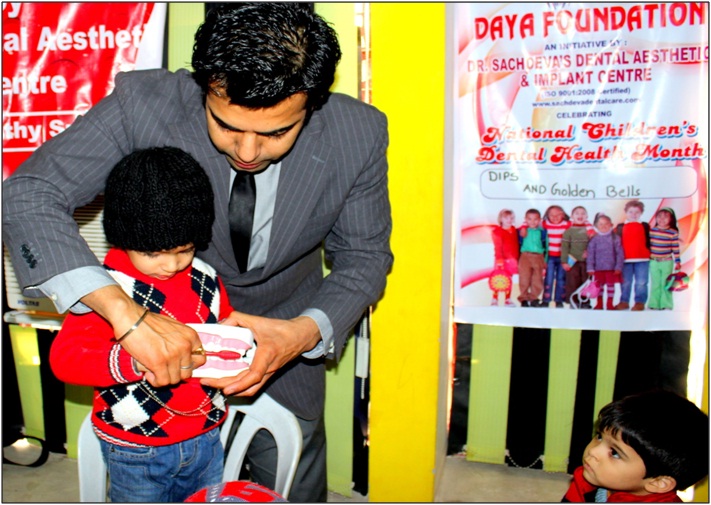 The aim of our foundation is:
To create awareness among school children regarding dental health.
To help every child understand the correlation between oral health and general health.
To evaluate children and inform them about their dental condition.



To identify dietary issues related to dental caries.
Certificates are awarded to appreciate children who maintained good oral hygiene.
We have all the latest technological advancements in dentistry to ease the life of every patient. Minimal invasive treatments are performed in our clinic which eliminates fear and anxiety in children.
Tooth decay is preventable and Dr. Sachdeva's Dental Institute assures children that preventable oral services are available to improve the quality of their life.
DENTAL CAMPS AT OLD AGE HOME
Oral cavity is the most essential part for the overall well being of the individual but often the most neglected part too. So in order to educate about oral diseases and different ways to maintain oral hygiene we conduct free dental camps frequently.
The goal of our camp is to make the senior citizens aware about their oral cavity and to give necessary treatment free of cost.
Senior citizens are always at a greater risk of developing oral diseases so diagnosis is crucial in order to prevent its further progression. As timely diagnosing the health problem will only find the solution.
DAYA Foundation aims to make dental care available to all the neglected community.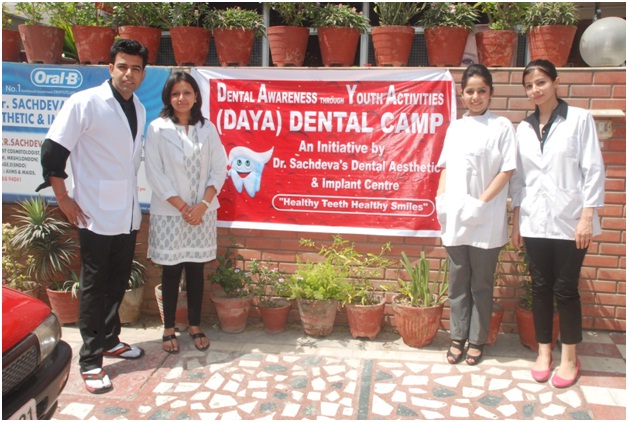 We tend to encourage healthy dental practices including personal care and professional care. And to make people realize the real importance of dental health and about all the complications it could lead to.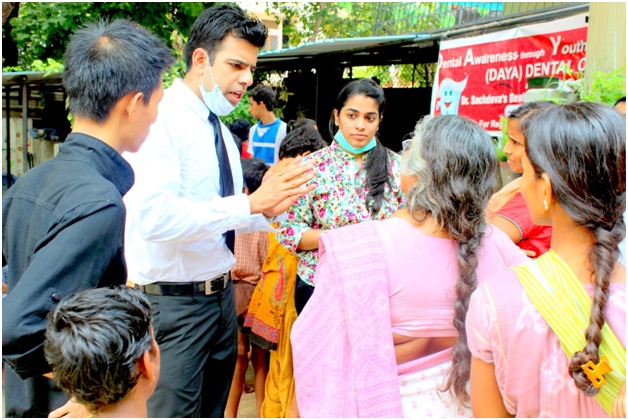 Several initiatives are taken from our foundation to uplift the oral health of people by –
Educating people about their present state.
Timely screening all individuals to diagnose the oral condition.
Giving necessary preventive and therapeutic treatment at the correct time.
Promoting healthy habits.
We have all the latest technologies and equipments to diagnose and treat patients like:
Portable Scanners
Portable Scalers
Portable Suctions
Dr. Sachdeva's Dental Institute is the best clinic in Ashok Vihar which offers all kinds of dental services especially dental implants with 98% success rate.