Daya Foundation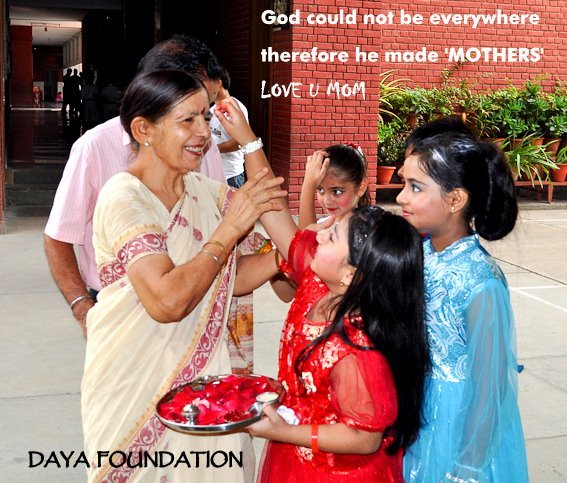 D.A.Y.A (Dental Awareness Through Youth Activities) FOUNDATION dedicated to my mother  "DAYA". She is my greatest teacher, a teacher of compassion, love and  fearlessness. If love is sweet as a flower, then my mother is that sweet flower of love, My respect for you is no different than your love for me, You are my crowning support & the best thing that I own says Dr.Rajat Sachdeva.
DAYA FOUNDATION - a unit of Dr.Sachdeva's Dental Aesthetic & Implant Centre, established to improve dental education, healthcare in delhi.
We are a humanitarian, non-profit NGO (Non-Governmental Organization) registered in delhi, engaged in social service initiatives. Our challenge is to make a meaningful difference in the lives of the underprivileged.
We are committed in our attempts to provide opportunities and resources to alleviate their needs and empower our society through dental healthcare projects, community welfare programs & encouraging positive human values...

Our work includes contributing towards, elder care programs, and dental health education awareness campaigns, dental Education camps for schools in Delhi & NCR - as "Smiles for all" Initiative !!!
"To maintain the Teeth and Gums of as many people as possible in the community in a healthy condition."
What is done in the Camps?
Every individual with or without dental problems is given dental check up for teeth and gums.
The oral hygiene status is assessed as" poor - fair – good" and individuals are advised accordingly.
A unique approach of guiding and advising on food intake and prevention methods are emphasized. The foundation emphasizes the role of food in both causation and prevention of dental disease.
Distributing Literature both in English and Hindi on Common Dental diseases, their causes, symptoms, prevention, complications and treatment. Nutritive values of various foods are also given to individuals.
Tooth brushes, mouthwashes, and other required medicines are also distributed.
Special lectures with Audio-Visual presentations are given to the general public. This is being done with an objective that we need to bring in and develop more people to create the awareness in the community.
 Daya foundation  with their "Smiles for all" initiative aims to create awareness amongst students about the importance of oral hygiene and oral care early in life to help them maintain healthy teeth and beautiful smiles for the rest of their lives. It has been found that children suffer from various dental problems like uneven teeth, crowded jaws and cavities, which if not treated may lead to serious complications later in life.. The foundation organises free dental camps across leading schools, colleges, orphanages in Delhi every month.
Speaking on the initiative smiles for all, Dr. Rajat Sachdeva, Director, DAYA FOUNDATION said, "Dental health is critical to overall well being of an individual, however owing to limited or no awareness it is often neglected. Through these camps we aim to create awareness about oral health and hygiene amongst children and teenagers early in life."